The "Marshmallow-Test" was first conducted back in the late 1960's by a Stanford professor named Walter Mischel. Over the years and due to its results, it became one of the most famous studies for the subject of delayed gratification.
What is it about? It's about measuring how young kids can use their willpower to delay their gratification and what impact this has on their potential in many areas of life.
The test was simple: A kid was brought into a room and given a plate with one marshmallow on it. Then it got asked to make a simple choice: Eat this marshmallow in front of you now, or wait 15-25 minutes in order to receive a second marshmallow on top!
Simplified: Each child was given a choice between having one marshmallow now or two marshmallows later. Most kids choose to have two marshmallows later. However, then they were left alone somewhere between 15 and 25 minutes (depending on age) with the irresistible sweet marshmallow right in front of them…
The test was then measuring the number of seconds that a child is able to wait. A few decades later, the researches went back to examine the life of those kids. They could prove the longer a kid was able to wait before devouring the marshmallow at age five was significantly predictive for a few very important life outcomes in their adulthood later on.
They found that kids who could wait [longer/ for the second marshmallow] where more likely to pass more difficult exams, had better social skills, where more confident, successful, healthy, and yes: Happy!
Of course, this test may have some limitations, however, the key essence holds true. More on those critical thoughts that challenge the test at the end of this post.
How to pass the Marshmallow Test?
First and foremost, it's so simple: DO NOT EAT THE MARSHMALLOW!
That sounds simple but is not as easy as you think for a little kid.
The researchers highlighted two significant findings about how kids successfully passed the test:
First, not physically seeing their reward made it easier for the children to wait longer. This means, don't look at the damn marshmallow all the time. Find a way to trick your mind into changing your thoughts.
Second, using distraction strategies also had a positive impact on how long the children managed to wait. Some of the kids started so sing songs, covered their eyes with their hands and arms, started to tip-toe on the floor, prayed to the ceiling and so forth. One little girl even tricked herself into falling asleep – a highly successful way to earn big rewards as André Kostolany confirms:
"Buy shares, take some sleeping pills and stop reading the papers. Many years later, you'll see that you're rich."

André Kostolany
The key to success seems to be the ability to focus on the long-term goals despite short term attention magnets.
It's some kind of trade-off.
Most people are programmed to chose instant gratification over all else.
If you find a way to trick yourself to "suffer" short-term you can unlock the door to the promised land of more enjoyment later:
If you exercise now: You will get healthier.
If you study hard: You can go to your dream school.
If you work smart: You will have a great career or even start your own business.
If you don't eat out: You will save more.
If you don't buy that toy now: You will invest more and become wealthy.
If you don't waste your time and focus: Your dreams will become true!
While we are all different from each other. The remedy is the same.
The key is to find areas where YOU are capable to delay gratification.
Self-control is the key to success.
If you manage to resist short term temptations, you will go far!
How to Teach the Findings of the Marshmallow Test
While it's easy to teach information and facts as above, the hard part is to teach methods that you can apply to actually improve your behavior and results.
According to Stanford psychology experts, the most important skill parents need to teach their kids for the 21st century is to "become indistractable". This is a tough one in our modern society where the new currency on the street is "attention". Even the more, it's super important to take some time to learn to focus either yourself or teach your kids this skill in one way or another.
A counterintuitive way to teach focus was a study by Michael Posner and his colleagues at the University of Oregon who worked with 4-6 year old kids with the aim to teach them better focus skills using video games. In one of the exercises the kids had to use a joystick to control an umbrella above a cat with the aim to keep the cat dry as it runs around. Kids could manage to stay focused and kept the cat dry. Such sessions led to substantial increases of skillset in kids, including a higher nonverbal IQ level.
Another way is teaching through stories.
Sesame Street for instance has created situations in which Cookie Monster must learn to control himself. Instead of gobbling up his cookies right away – like eating the first marshmallow right away – he's got to behave and wait. His goal was to join the "cookie connoisseur gourmet club" and – yes- for that one you got to be able to wait for your cookies. In the episode, Cookie Monster learned strategies such as "framing" where he'd pretend the marshmallows are just a picture – and because if it's just a picture, you can't eat it. Cookie Monster also had the idea of tricking himself into believing that the cookies are smelly fish, then he will not want them at all.
The key concept for yourself as well as for kids is to get exposed to strategies that showcase what self-control is, while having fun. The best strategies are including both: A great teachable and the self-motivation within. Kids – and adults – must want to change themselves.
Ultimately such exercises will help build character, grit, persistence, tolerance of frustration (!), gratitude, optimism, excitement and how to build energy going into a new project.
Even more important than simply teaching something to your kids is once again: You got to model it. If you promise something, you got to keep your promise. It will get tough to expect your kids to delay gratification if you are breaking your own promises to them.
Finally: Kids must understand that their behavior has consequences.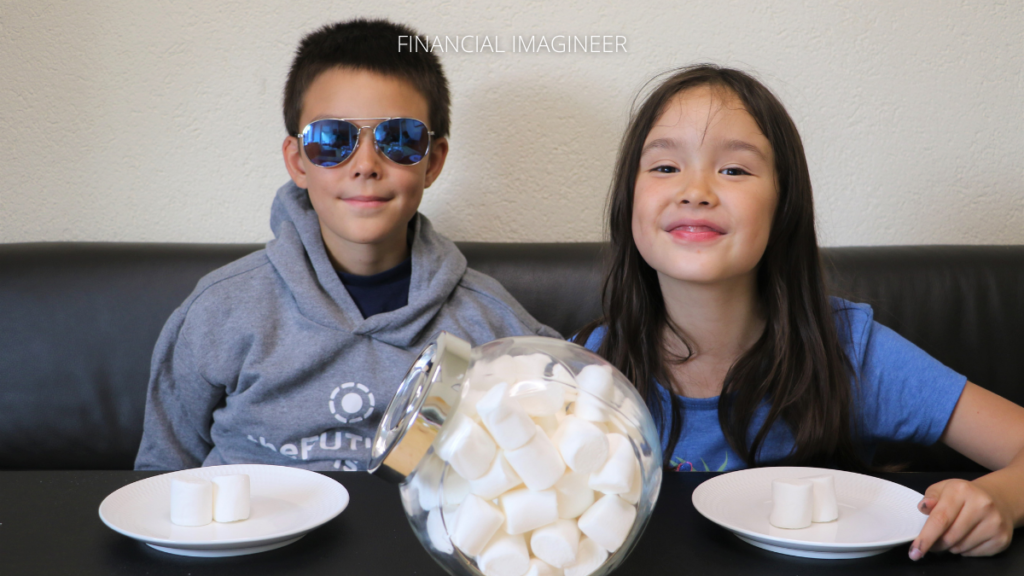 If they behave in constructive and creative ways, the consequences are good. If they behave in negative ways, the consequences are "less good". As a parent, it's your job to create that environment to let them become aware there's a relationship between what they're doing and what happens to them in the end. This way, they can internalize those lessons and have a better chance to later live the life of their dreams.
Here another post I've written about how to teach kids towards becoming truly (financially) independent.
How to Marshmallow Test Yourself?
As mentioned above, there are many ways to delay gratification. The essence is not to delay everything 25 years out and have absolutely zero enjoyment right now.
That's no way to live!
However, there are many small things that you can do, to marshmallow test yourself right now, here are the five most important ones in my personal view:
1] You saw something that you'd like to buy:
Try to not look at it, hide it, wait – hold on for a few days and let your emotions cool down.
In more than 80% of cases you may as well forget about it again. If not, maybe yes, buy it.
remove temptation, install "spending speedbumps"
2] You check your account and see your stocks are up or down a lot – you'd like to take action:
Take some time to think again why you bought these holdings in the first place? Try to think if any of your long-term assumptions has dramatically changed? Are your emotions rather than your rational mind guiding you? Control your emotions and check the fear and greed index. Maybe sleep over it. Most often your conclusion will be unchanged from before. If not, maybe take action!
learn how to manage emotions and stress, align your short-term actions with your long-term goals
3] It's late at night, you'd like to Netflix and chill – but you also have that great idea right now…
Don't stress it too much, but do this: Take 5 minutes first, sit down, bring your idea to paper. Once you write it out, you can tell if you'd rather like to work on your idea now or still watch Netflix. Maybe you're super tired and rather go to sleep than watch TV so you can work on your idea early in the morning?
prioritize your time, be intentional, beware of time bandits
4] It's the last Friday of the month and you've just received your monthly salary.
It's wonderful to see your cash account nicely filled. The weekend is coming. You'd like to go out for dinner, get a haircut, buy some new clothes and splurge a little, maybe stack-up on some exclusive artisan bread for Sunday brunch – after all: You've earned it! Right?
How about marshmallow testing yourself first? How? Yes, you've earned it: Pay yourself first! Automate a monthly deduction from your salary account to your savings and investing account. Invest into your system of abundant income streams before you spend. Then go have fun!
set goals, measure your progress, pay yourself first, automate where needed and control your urges
5] Last but not least, we are all human and yes, you are going to fail. It's natural.
However, beating yourself up and being harsh to yourself doesn't help. It's wasted energy. Eighty percent of achieving your goal is based on your attitude. Attitude defines altitude. If you're planning to work on ambitious goals, you'll need time to build sufficient self-control, discipline and focus.
learn to forgive yourself and move on – learn from mistakes, stay passionate
"Success consists of going from failure to failure without loss of enthusiasm."

Winston Churchill
Some people have valid reservations why the marshmallow test turned out as it did. As promised at the beginning of this post, here the disclaimer: It was argued kids of successful parents are usually doing better at the marshmallow test not because they control their willpower better, but rather because those kids were around "trustworthy adults". Thus, the kids trusted that the second marshmallow would be there in the future.
Nevertheless, I strongly believe that mastering self-control and working on long-term goals with persistence, grit and endurance is more rewarding than not. My dad had me marshmallow tested as well during my own childhood. It's something you can learn and pass on to the next generation.
A Finish proverb goes like this:
"Life is uncertain, eat your dessert first!"
However, the average human lifespan has increased steadily. We have now more "future" than ever before to spare. Therefore, despite life's uncertainties, try to focus on your future enjoyment and picture your imagineered life – then you can stand this experiment, this method, better.
Do sustainably, in a fun way please.
Eat more marshmallows!
Tomorrow – not today!
Train yourself!
Make it fun.
Matt
If you liked this post, please consider subscribing to my blog by email, liking my Facebook page or follow me on Twitter, more details here: