Regardless of what people think or try to tell you, the easiest and most common way to get wealthy is to build multiple streams of income.
Did you know the average millionaire has seven flows of income?
Yes, it's possible to get reasonably wealthy with a good job. Yes, you can strike it rich with equities. Yes, you can focus all your efforts into your job or business. However, if you are too concentrated on one single source of income, you limit your growth and remain at risk.
Having added additional income streams for myself allowed me to take more risks, to quit my 9-5, to venture out exploring and growing into an entrepreneur – improving the quality of my life.
Don't solely rely on one stream of income: Grow and diversify your streams of income.
Diversified growth is a most natural phenomenon. Look at how trees also don't rely to grow on a single root or branch. As trees grow, its roots and branches start to spread. By reaching out, they are attempting to tap into uncontested soil while branches try to maximize sunlight intake. If a tree fails to obtain sufficient nutrition from either side, unable to support itself, it will die and give way to other trees.
The question about streams of income is somehow a chicken and egg dilemma. It's not clear if additional income streams make millionaires in the first place – or – if it's millionaires that simply understand the rules of the game and keep more income streams flowing to them.
Either way, one thing is clear:
Multiple income streams are a crucial part of the wealth creation formula. Increasing your income [streams] counts as the most secure path to financial freedom and abundance.
The starting-point is where you are now. How many streams of income do you currently have? How many of those are you aware (!) of? Which stream is working the best for you? Which stream has the highest potential to improve going forward?
Learn how to optimize existing flows and add additional ones.
"If you don't find a way to make money while you sleep, you will work until you die."

Warren Buffett
In other words: Don't stay in bed unless you've learned how to make money – from bed. The goal is to sleep rich and wake up richer.
Primary Stream of Income
Most people are getting started with their money-life earning income through a job. A job is selling your skills and time against money. Jobs can provide security, comfort, and to a certain extend satisfaction. Employed people usually get paid regularly at the end of the month. While different jobs pay different amounts of money – some less, some more – they all pay.
Keep your job and find ways to optimize it. You could start working your way upwards [the corporate ladder] by aiming for a promotion. You could target a salary rise by analyzing your value contribution. Another approach could be to negotiate for part-time work, maintaining your baseline contribution [and maybe even your salary] freeing up yourself more time to work on additional streams of income.
Figure out how much is your real – actual – dollar earned per unit of time you need to sacrifice in order to maintain the job. Your real dollar earned is your salary, less deductions, less taxes, less your costs of maintaining your job (e.g. your commute, expensive clothing, socializing etc.). Deduct the final $$$ amount and divide by your total time effort and you might be surprised how little you actually earn – per hour of your life.
Still, priority one should be to keep optimizing your main stream of income until there are no further improvements possible.
This is where to get started.
Secondary Stream of Income
For this second point, let's assume you've got a partner that is equally engaged in the workforce. This may or may not be the case. If your partner is earning [a stream of] income independently from yours, you can engage in teamwork and optimize for two instead just one main stream of income.
Considerations: If both of you work in the same company or industry you might still have to think of concentration risk in the potential case your industry gets hit or the company lays-off staff.
Diversification is not a must, but could be a meaningful consideration here.
Your partners' salary might allow one of you to let go of the job in order for the other one to work on building additional income streams or explore entrepreneurship.
It's a great option to have if you work as a team!
Creating Additional Streams of Income
Whenever someone needs additional income, the stereotypical suggestion offered is to "get a part-time job." This could be a solution. But it's not good advice. Mostly. What if you don't have the time or energy to put in extra hours? Going down the path of part time jobs may still count as "trading time for money".
There are some exception to where selling more of your time makes sense.
Leverage on stuff you have to "do anyways". Let me explain. If you consider working as UBER driver, try to only drive UBER on a route you got to drive anyways: E.g. your daily commute. This way, you don't spend more time or do something you wouldn't do in the first place, unlock your time-potential and "activate" an additional income stream without changing your daily life or habits or selling more of your prescious time.
Other examples are to pool laundry (charge others for helping them doing theirs), babysit ("kid-pooling"), cook bigger portions of meals and sell the surplus, or anything else you do anyways and think you could "share" out to get paid.
Adding more streams of income will take an effort. Nothing comes for free. Expanding your income potential usually "cost" either a monetary amount or a time investment. Whatever you have in mind, get your focus away from just selling your time.
Your time is your most valuable resource.
When I was younger I've read books like "Rich Dad Poor Dad" and "4 Hour Work Week", they lightened the FIRE in me to become extremely interested in building streams of passive income.
You see, selling your time is considered "active income", but earning money without selling your time is called "passive income". If you solely focus on "active income" you cap yourself at 24 hours per day and will not unlock potential additional income.
Try to find ways to open up additional income streams that are not directly linked to you selling (more of) your time. Build systems. Little currents, becoming bigger, growing to streams, streams of income.
Small things you can do right away are filling surveys online, monetizing your beautiful photos online, hey, in todays world you can even sell your online behaviour. Yes, you're the product if you want to be. Some apps actually pay YOU for having them installed on your phone. Having a spy installed may not be the most preferred way to earn money for some, to others this might be perfectly legit.
In my case counting my credit card reward points as a flow of passive income makes totally sense. Those reward points allow me to circle the world in business or first/ suites class at least once a year without spending additional money. Just figure out which credit cards are most rewarding and channel your expenses accordingly.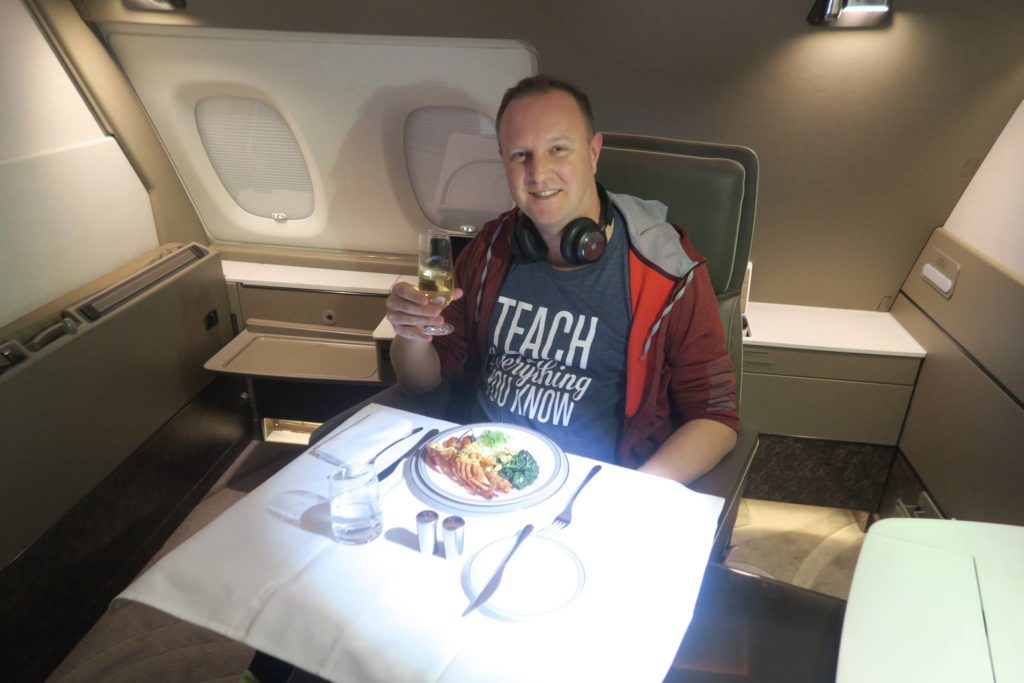 Unlock hidden potential. Otherwise you let it go to waste.
Simply selling your time is limiting your full income potential and it's not leverageable.
Create Wealth – Passive Income
Did you make more than you spent today? Awesome! Do you need that extra money for expenses tomorrow? Save it! Do you have more than you need for tomorrow? Invest it!
This wealth creation formula is simple: It's like holding back your earned money and send it – not YOU – back to work – FOR you – to boost future streams of income higher again.
The most common and easiest additional streams of passive income are investments in capital markets. Invest and earn either interest from bonds, dividends from equity holdings or – depending how you want to look at it – generating capital growth through increasing asset prices over time.
A portfolio of securitized assets that provides sufficient income to cover your expenses is the cornerstone element for most people working on financial independence.
Diversify Your Streams of Income
The capital markets are fluctuating and while it's the easiest option to build true passive income, you may also diversify into additional income streams that have nothing to do with your investment portfolio.
The second most common is real estate.
If you're serious to build wealth, please refrain saying you'll never have enough money, time or expertise to get into this one. You can start small and learn by doing while growing into becoming a landlord.
Room Rentals
One of my friends started out representing his company in another town. For sending him there the company offered him a housing allowance. He optimized that offer in a smart way. Instead of renting a place, he purchased a small two-bedroom apartment with almost no cash down and used his company's housing allowance to serve the mortgage on it. At the same time he rented out his second bedroom and received passive income from his first tenant. Ten years later, his flat increased in value, the mortgage has shrunken, and my friend kept investing the difference into equities all along. This is how to build wealth from scratch. Beautiful.
In a later stage in life, many are looking to start a family and desire to level up their homes. If you purchase a bigger apartment did you ever consider renting out one room to a tenant? If you choose the right and suitable tenant it could be a great solution. We have done this successfully in the past and enjoyed good times co-living with our tenants.
AirBnB
We also have friends that offer their extra bedroom(s) on AirBnB like a hotel and charge by night. They get to know a lot of interesting people and have extended their network tremendously! Doing AirBnB is a very flexible way to "activate" existing capital and let it work for you. You're the boss of your AirBnB and may "close shop" if one day you're no longer in the mood.
Parking Lots
You may happen to own extra parking lots: Try to rent it out.
With parking lots you don't have to fix the toilets or invest in a renovation budget. Depending on the yield you may earn, it may be even the better choice as compared to rent residentials. It may make sense to invest in parking lots and simply focus on this for passive income generation.
Tax Advantages and Credit
In most jurisdictions real estate comes with tax advantages – something that investing in stocks and bonds usually don't have (except for retirement accounts) – and can boost your credit lines with banks which can be used again to further optimize your bank platform set-up. Speaking about optimizing: IF you have existing mortgages, please check now if it would be a good idea to refinance as interest rates are rock-bottom.
It's not "the bigger, the better". Sometimes a few small passive streams of income together may work better than one big one.
Entrepreneurship
Starting a business might not be a goal for everyone. It requires more time and effort as compared to holding a job and building more passive flows of income. However, if you go about it the right way it can be most rewarding in many ways.
Find your Ikigai and create a professional life/ identity around it.
Start it as a side-hustle to test the waters. Offer a service or create product you can sell. Think selling your expertise as consultant, digital products, courses or writing a blog or book.
Hesitating because you're not sure you got value?
Know that you're better than 99% of all people at doing something.
Find this something, your core competence, your "ikigai". Most people that are as good, or even better than you, are simply too lazy to do something with it. This is your chance.
Entrepreneurship is taking control of your own life. You have all the power. But as the saying goes "with great power comes great responsibility". When you're an employee and things go wrong, you can blame it on the economy, the company, your co-workers or the boss. When you take charge and become the boss its 100% on you. No excuses.
The upside however is that IF you do it right, all the benefits are yours as well.
It's simple arithmetic: Your income can grow only to the extent that you do.

T. Harv Eker
The benefits of performing well as entrepreneur are naturally much greater as compared to outperforming on your 9-5 job as you don't have to pay your company shareholders, your bosses, your service departments such as HR, the office rent, marketing and so forth. However, you'll also have to do all those things yourself. It's a give and take.
Entrepreneurship is a wide topic. Once you have built sufficient income streams to sustain a comfortable lifestyle it's the next logic step for most. You don't have to build an empire, build a lifestyle business. Owning a company comes with even more tax benefits as compared to real estate.
Building an online business is the most fashinoable way to go. But don't limit yourself to that thought. There are so many ways you can untap additional streams of income as long as your focus on adding value serving your clients.
Focus
If you're working a very high paid profession and are happy at your job, shouldn't you be focusing more time on your vocation instead of venturing into building other streams of income?
My thought on this is simple: Yes! Do focus on what you're passionate, good at and can get paid for.
However, you don't have to keep selling your time and skills to an employer.
The only difference between a rich person and a poor person is how they use their time.

Robert Kiyosaki
The more you rely on one stream of income – as high or good it may be – the riskier. Imagine getting laid off tomorrow.
Congratulations if you have a well paid job, it's actually easier [to get started] as you can re-channel more of your excess cash into assets, trying experiments and you can afford to make more mistakes on your journey.
Simply put, more streams of income equal more security.
Work on becoming your own boss – cut the middleman – and get paid by your clients directly. This is also beneficial to reduce potential conflicts of interest as you can serve your client better if you do so without having to satisfy your employer as well.
Focus to master and bring a first additional stream of income it to fruition, stabilize it, only then move your focus to the next one and repeat. Over time you will build an optimized system of well diversified passive and active income streams that is aligned to your ikigai, lifestyle, dreams and ultimately let you forget when its payday.
Coming from a banking background, my own major streams of income are business (consulting, advising, managing money for others), capital growth, dividends and rentals.
Conclusion
Selling more of your time is not scalable. It might also not be sustainable nor enjoyable. Go for additional income streams that are aligned with your envisioned lifestyle and that are mostly flexible and as passive as can be.
Increasing and diversifying your income is simple – but not easy.
It's definitively worth it.
If you don't get started, you will always just be one paycheck away from being on the street.
Don't downgrade your dream to match your reality, upgrade your faith to match your destiny!
How many streams of income do you have and which ones are you currently working on?
Financially Imagineer your life,
Matt
Disclaimer: Please be made aware that the some of the links used above may be affiliate links for which Financial Imagineer could receive a compensation.