Have you ever wondered what advice you would give to your younger self? Or similarly, have you ever thought about how your future self would show up and how it would want to guide you today?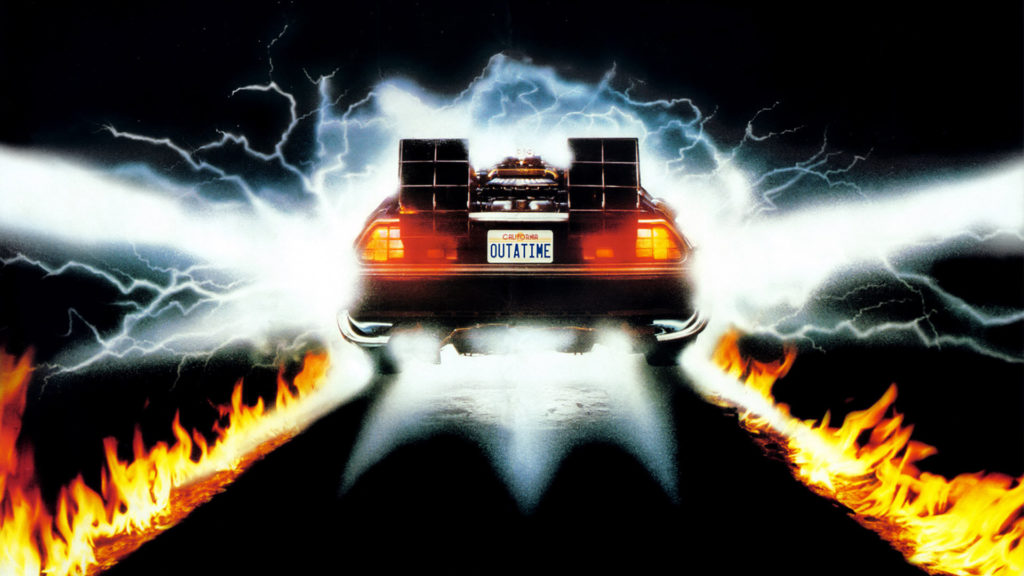 Since we haven't built a real flux-compensator [yet], wouldn't it be easier to simply start asking those older and smarter than you to share their most valuable lessons?
I've spent some time to gather some nuggets of wisdom from people I'm surrounded with and decided to sort them systematically. Maybe first and foremost, one of the key lessons that I've learned is that's it worth it to pursue what your longing for, especially if it's difficult.
The most valuable things in life are often hardest to obtain.
This rule of thumb is valid for experience, wisdom, skills, technical talent and of course wealth. At the same time, the most valuable lessons of life are often the ones you try to avoid, resist, or simply miss for years – as you're following your current routine indefinitely.
If you are willing to do only what's easy, life will be hard.

But if you are willing to do what's hard, life will be easy.
Life is simple. But not easy!
In this post, I'll try to summarize all the thoughts and ideas about what I'd be telling my younger self.
No Fear
Dream big – if your goals don't scare you, set bigger goals!
Your true potential is only limited by your passion and imagination. Imagination is the workshop of your mind, capable of turning mind energy into accomplishment and wealth. What the mind can conceive and believe, it shall receive.
Work on making your dreams come true by finding your true ikigai. This planet needs more people that dare to dream – learn to dream with eyes wide open. Keep in mind that if it doesn't challenge you, it most likely also doesn't change you.
"It's kind of fun to do the impossible."

Walt Disney
The biggest risk in life is actually to play it too safe. You might end up with regrets for not having tried. We all just have one life. Use your time wisely. Time is the only wealth we're given.
The biggest obstacle to get started is fear. People are afraid to think big, of trying new things and of making mistakes. However, if you think too small, you'll only achieve small things.
Some of my friends confirmed they achieved the greatest advances in life in moments where they stayed calm and did it anyways. This is true for your career, for love and for making new experiences!
I would tell my younger self: "Trust me. The best things in life are on the other side of fear!"
"The problem human beings face is not that we aim too high and fail, but that we aim too low and succeed."

Michelangelo
Find your true north, your direction, your why.
Then stick to who you are and keep building on it.
Do not try to impress parents, partners, the other gender, friends and bosses. In doing so, you would only head in directions that are at odds with who you really are or could become.
Yes, you will make mistakes.
Yes, you will have to learn more on your journey.
But all this is worth your while as long as you keep an open mindset and stay open to possibilities and chances.
"Anyone who has never made a mistake has never tried anything new."

Albert Einstein
In order to strengthen your foundation, do keep your partner and family onboard, you have higher odds as a dream-team!
Don't be the guy that spent his entire life in the comfort zone.
Have no fear!
Start Now
Some say, the best time to get started was twenty years ago. The second-best time of course is today, not tomorrow. Don't wait for the perfect time – it will never be perfect. Forget about waiting until you know everything – you never will. Start now.
The actual root of procrastination is doubt. Find a way to increase your belief and you will increase your activity. Of course you will be disappointed if you fail, but you are doomed if you don't even try.
Keep in mind that people who never try are failing already.
For all you know, no one else knows what they're doing either. Everyone feels insecure sometimes (some even a lot of the time).
Simple truth of life is: Those who keep going, keep winning.
Keep in mind: Tomorrow is not promised to anyone. Take risks while you're young and while you can.
"Everybody dies, but not everybody lives."

A. Sachs
In case you don't like where you are now, move. You are not a tree.
Move towards your goals starting now. Other than your partner and family (teamwork!) don't wait for someone to give you permission – they won't.
Just start now!
Stay Curious: Keep Learning
Unless you are completely retired, earning money is still the best form of building and preserving wealth. Anything that you learn will somehow become your wealth, a wealth that cannot be taken away from you anymore.
Invest in yourself so that you'll never have to worry about earning an income whether it be from a full time job, side-hustle, or business.
There are many ways to learn new things: Reading books, attending classes or through experience. I'm a strong advocate of learning desirable skills and my favourite way to go about it is through exposure: Experience is king.
Experience are the raw form of learning and will put you in a situation which pure (book-) knowledge cannot give. Life greatest lessons come from experiences.
Get started with learning "how to money". Use this key-skill to buy more of your time and expose yourself to learning more: New languages, new technical skills, how to write, give public speeches, how to start a business and so on.
Make your brain faster, smarter, more confident and more savvy!
Stay curious and keep learning!
Move the Needles
How to money?
The very first step to building wealth is to spend less than you make.
Simply put, focus on increasing the gap between income and expenses.
The bigger the difference, the more "free cash flow" you have flowing and the faster you cruise towards your (monetary) goals – be it net-worth or cash-flow.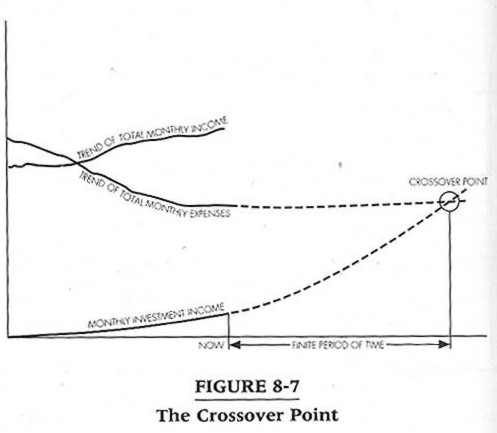 The higher your monthly income and the lower your monthly expenses, the more you can save and invest. The more you invest, the faster the third curve, the monthly investment income, will move higher up. Once the "passive income" reaches your expenses, you've reached the crossover point. Congratulations, you are now financially free!
Read more about this in the wonderful book "Your Money Or Your Life" by Vicki Robin.
Reduce your expenses by listing them all up and question them one by one. You will be surprised how much potential most people are able to unlock doing this exercise. Focus on ongoing savings, not on one-offs. Explore saving more money by going for the "Million Dollar Haircut" or work on similar new habits. A budget might help.
On the other side, work on increasing your income either by adding more value to this world either on your job or with your business or by investing more into cash-flowing assets.
Move the needles [income and expenses] into the right direction over time.
Pay yourself first!
Don't save what's left after spending, spend what's left after saving.
Start Investing Now
Very often people tell me they don't have enough money to get started with investing. Well, how much is enough? I'd say, if you found a way to have your basic needs covered, anything above that is fair game.
No amount is too small, so start NOW!
Know the power of compounding in investing in financial assets as well as other areas in life. Whatever it is you like to get started investing: Start your compounding journey with your first paycheck and keep going from there.
Never stop.
By setting-up automatic bi-weekly investment contributions to a stock market index fund as soon as you open a bank account you'll most likely be well served. Try not to look at it until you're much older.
"Compound interest is the 8th wonder of the world. He who understands it, earns it; he who doesn't, pays it."

Albert Einstein
Buy Assets instead of Liabilities
Learn the difference between assets and liabilities.
Assets are anything that puts money into your pockets.
Liabilities are anything that takes money out of your pockets.
Simple as that!
Following this definition your car, expensive toys, boats or even your oversized home most likely qualify as liabilities (!) while investing into your education, equities or your business will be assets.
Never finance depreciating "assets" and be careful with financing liabilities even more. Better to purchase second-hand cars or wait until you have sufficient free cash-flow to indulge purchasing "fun-items" – if must be.
Most people can afford NOT to be a great investor, but probably can't afford to be a bad one. Invest early in Index funds: You'll worry less and earn more. Index and chill.
Once your assets are accumulating capital understand that capital is that part of wealth which is devoted to obtaining further wealth. This can be human capital (yourself) and/ or financial capital.
Keep accumulating capital.
Understand Your Taxes
The average person will view taxes as something inevitable and therefore not spend too much time understanding the "tax-code". Each tax jurisdiction has different rules and loopholes. Understand the rules of the game before you start playing.
For most tax-codes the advice is similar: Maximize your retirement-account contributions, untap others such as health savings accounts, know how to optimize mortgages, debt, and real estate. Figure out how capital growth and dividends are taxed. Implement more tools if and when needed as your net-worth grows.
At a certain point in time you should consider starting your own business for employing yourself and/ or holding assets. From eight digits upwards the topics could be your personalized fund vehicle or to collateralize your assets within or establishing foundations and trusts with insurance shields to prepare for handing over your wealth to the next generation.
Beware, the rules keep changing.
Keep yourself updated.
Socialize with intention
You'll become the average of the five people you spend the most time with!
Choose your friends wisely.
Who you hang out with determines what you dream about and what you collide with. And the collisions and the dreams lead to your changes. And the changes are what you become. Change the outcome by changing your circle.

Seth Godin
Take people for who they really are and not for who you want them to be. They show you everyday just look. Make sure you don't confuse looking rich, (buying fancy toys and big houses), with being wealthy. The people we think are rich are often deep in debt.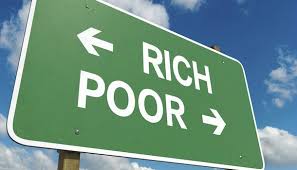 Stay away from people that think you're lucky if you succeed or that you're greedy if you acquire wealth. Pay no attention to them. They simply doesn't understand. Avoid people that don't understand.
Choose your tribe. Surround yourself with energetic people that like to discuss their ideas instead of talking about other people. Engage in some #JacuzziBeerstorming for getting more creative with your social circle. Wealth flows from energy and ideas.
It is the product of man's capacity to think.
Build your relationships, your network is your networth.
Fuck the Joneses
Avoid keeping up with the Joneses.
Avoid herd-mentality and most money problems will avoid you throughout your life. Instead of spending too much time with what the average Joe on your street does, says or thinks of you, focus on what you can control.
What other people think of you is none of your business. Don't be in a race with your social media neighbours. No one is so miserable as the poor person who maintains the appearance of wealth. Be content with enough and stay clear of lifestyle creep.
"I'd like to live as a poor man with lots of money"

Pablo Picasso
Never ever, ever, ever give up! Ever!
Be patient and be prepared for set-backs.
Life is not a sprint, it's rather a marathon. The greatest of all works have not been performed by strength but by perseverance.
Be more tough!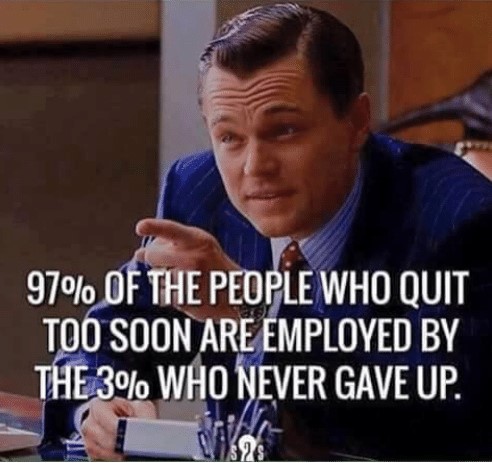 You may have to fight a battle more than once to win it.
Every journey starts with a first step. Get started and then focus on daily progress. Take small steps if needed. But steps into the right direction. Patience, persistence and perspiration make an unbeatable combination for success. Most of the important things in the world have been accomplished by people who have kept on trying when there seemed no hope at all.
Aim high, be unrelenting in your pursuit of your goal, but flexible in your approach of it. Stay true to your values and don't compare yours with anyone else's journey. Challenges are what make life interesting. Overcoming them is what makes life meaningful.
"When the going gets tough, the tough get going."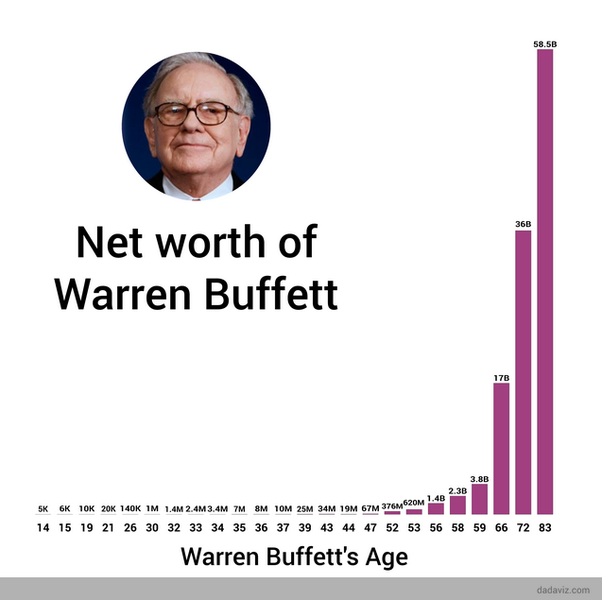 No Regrets
Sometimes when you think back you will realize in your life there are certain important decisions that have led you to where you are today. It could drive you mad if you keep thinking in "what ifs" all the time.
Imagine, back in 2004 I got accepted to work for Google through an AIESEC traineeship, said no and decided for the more adventurous challenge of working in Taiwan. Was this a stupid decision? You could argue so. However, I chose to venture out to Taipei instead and got to know my wife. There are many such crossroads in anyone's life.
My advice here: Once you're at that crossroads, listen to your heart, your passion. Choose wisely. Make a decision. Go for it. The path you take will define and form you. In the end, it doesn't matter which path you take, as long as you move forward. And have no regrets.
Seriously, it doesn't matter too much what others think.
Regrets don't help.
Take Care of Yourself so You can take Care of Others
When you fly on an airplane, the flight crew instructs you clearly to "put your oxygen mask on first," especially before helping others, including your own children!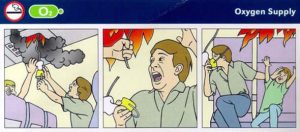 Why is this such an important rule? It's a rule to ensure a higher rate of survival. If you run out of oxygen, you wouldn't be able to help anyone else with their oxygen mask anymore. Put more simply: if you die, you can't help anyone else.
Again, the life advice here is not to push forward at any price. You got to know how to take care of yourself. Especially when to take a rest. If you don't take care of yourself, you can experience burnout, stress, fatigue, reduced mental effectiveness, health problems, anxiety, frustration, inability to sleep, and more.
Keep in mind, whatever you try to attain here: You're doing this to improve your life! Money is not the end goal. It's a means, a tool, a way to have options to build the life of your dreams but not worth anything in its own right. Don't lose sight of what really matters. Happiness over being "rich". The journey should be as remarkable as the destination. While wealth is the ability to fully experience life please ensure to enjoy the ride: Life is about being and becoming, not having and getting.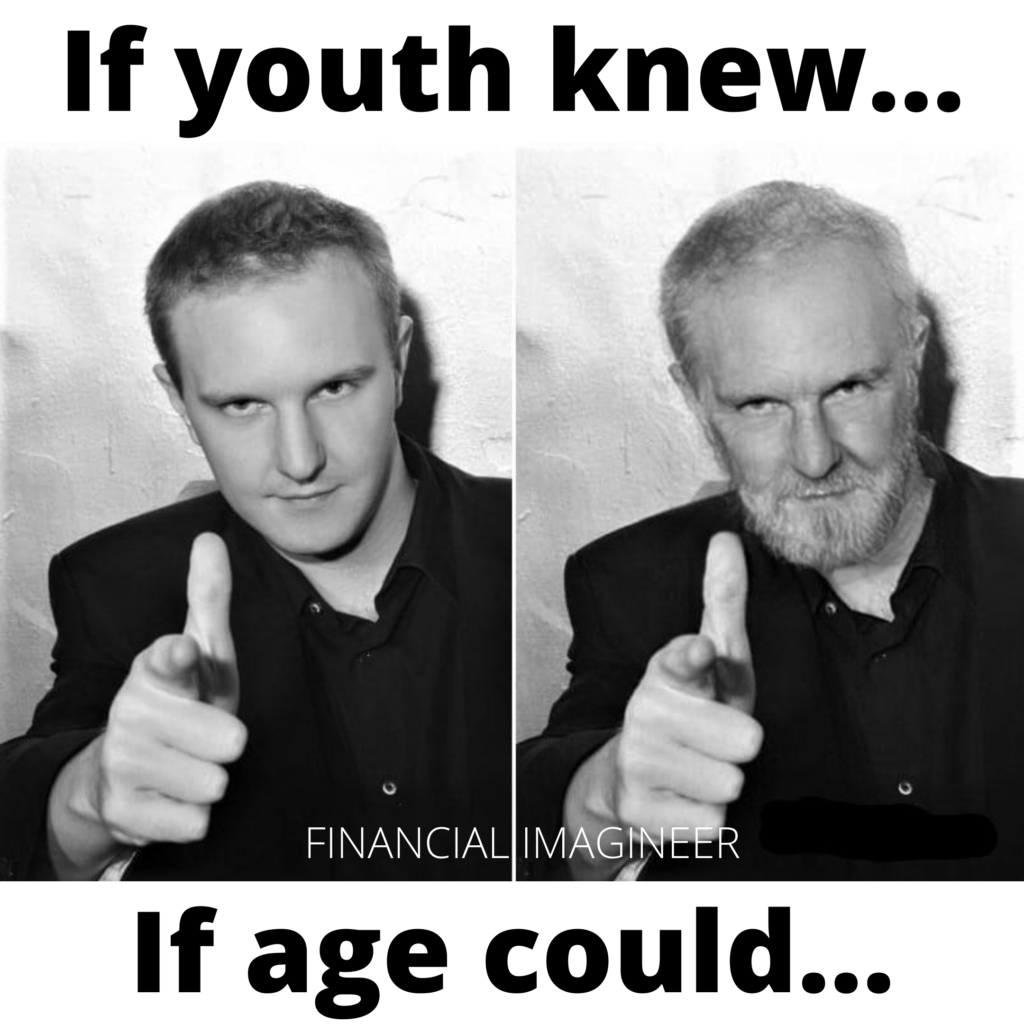 Remember: You only live once!
What advice would you give to your younger self if you could?
Tomorrow is the first day of the rest of your life.
Financially Imagineer Your Life!
Matt
Disclaimer: Please be made aware that the some of the links used above may be affiliate links for which Financial Imagineer could receive a compensation.